Hotel Services
Shaza Al Madina is where warmth, peace and harmony settle comfortably in your heart and soul. With every need fulfilled, and every request met, we endeavor to make your stay in the holy city truly distinct and gratifying.
The 5 star hotel at Al Madina offers inimitable levels of service complete with our Morafik, the attendant. The Morafik is the first person to greet you upon entering our hotel and the single point of contact for all your needs. With his extensive list of contacts, combined with his profound intuition, he offers a personal connection to the local environment and will help to organise Ziyara in Al Madinah to make your stay in the holy city even more rewarding. In the Shaza world, a guest is both a blessing and a privilege. Our handcrafted guest facilities and services have been exclusively prepared to provide you with an unforgettable experience. Shaza Al Madina offers a range of guest courtesies and unique welcome rituals that make a stay with us a truly memorable occasion.
Al Morafik
Al Morafik is a man of the court who in the East of the past could make things happen. The Morafik at Shaza, is a gentleman of equal position. A man who proverbially clicks his fingers and gets the job done – graciously and discreetly. From dates and a cooling drink on arrival, to the final goodbye right at your car. The Shaza service style, as you will soon experience, is truly one of a kind.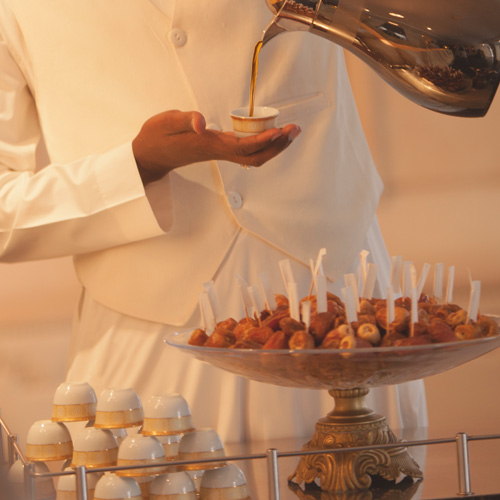 Our Business Centre offers quick, easy to use access and facilities to meet every requirement you may have. From computers and colour, it is designed to offer a complete solution to all your communication needs. Your office away from your office, you need never be out of touch. With host present at all times, the Shaza Business Centre is a hub of communication and efficiency.