More than two million Muslims performed the holy pilgrimage of Hajj this year, with Allah in their hearts and faith in their souls. Performing 'Hajj' means to circle or circumnavigate. It is an Arabic word, derived from the Hebrew language whose importance in the life of a devout Muslim is unparalleled.
Hajj is a mandatory religious obligation of Muslims and is performed at the birthplace of Prophet Muhammad (peace be upon him) in Mecca (Makkah), Saudi Arabia, during the 8th to 12th(sometimes 13th) of the last month of the Muslim lunar calendar (known as Dhu al-Hijjah). It is one of the five major pillars of Islam. The pilgrims follow what the Prophet Muhammad (peace be upon him) did more than a thousand years ago, along with commemorating Abraham. The 9th day of Dhu al-Hijjah is the day of Arafat or the day of Hajj.
If your time for Hajj has come, you are blessed to embark upon a journey whose path is enlightened by the lamps of faith. This Hajj guide is all you need to read to know more about the pilgrimage.
While in Mecca (Makkah) and as you perform Hajj, it is important to stay at a place that offers you calm vibes to worship and a refuge from the chaos that you face in your life. At Shaza Makkah, we believe in curating a beautiful experience for you. You can stay at our splendid suites that open to the views of the Holy Masjid or be lulled into a peaceful slumber in our rooms that have bespoke, art-infused decor.
We at Shaza Makkah take a step beyond offering warm hospitality. We ensure that your time in Mecca (Makkah) is filled with happiness, comfort and is perfect for creating memories that remain in your mind forever. We have created this comprehensive guide to Hajj as a gesture of respect towards the pilgrimage to make your journey easier. The welcome rituals by Shaza and the turndown gifts are thoughtful and will win your heart after a long journey.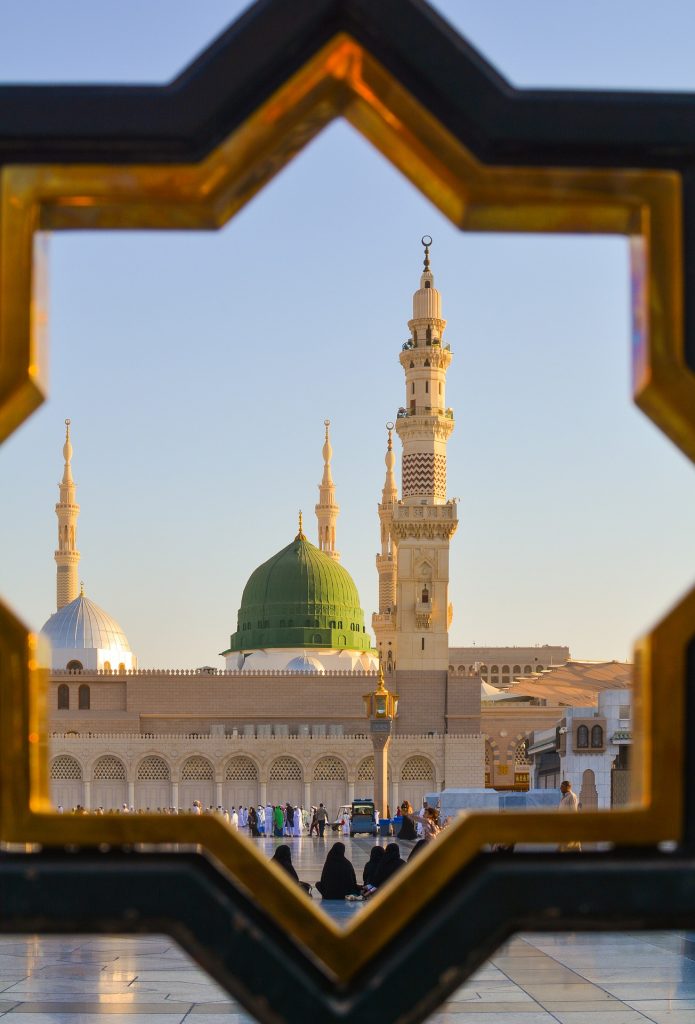 Planning & Packing
As most of the pilgrims for Hajj are not from Saudi Arabia, the entire trip can take more than ten days. Planning can help in devoting yourself without any distractions. Book a hotel near the mosque, prepare for the financial costs, and create a list of things you will need on your pilgrimage. Where you stay during Hajj is a very important thing to plan.
Here's your guide to packing for the pilgrimage. Create a packing checklist for Hajj to ensure you don't forget anything.
Important documents like passport, visa, receipts, booking vouchers, relationship certificates, identity proofs, passport size photographs, and their photocopies. Also, don't forget the prescriptions for your medicine and a contact card, in case of emergencies, that also contains your hotel's details. We can help you at our hotel,Shaza Makkah.
Carry sufficient clothing as there might not be enough time for laundry. Get clothes that are light and comfortable. Carry a Hajj neck bag, khuff socks, shoe coverings, abayas, headscarves, the under caps for hijab, ihram belt, and sheets, etc. Shaza Makkah's Al Morafik can help you get anything you need if you forget to carry the essentials.
Pack it in a light suitcase that you can carry on your own.
Get a small pouch for your medicines and first aid kit. Carry another one for everyday essentials and tools. Don't forget caps, sunglasses, and sunscreen.
Carry a good capacity power bank that can help you charge the smartphone on the go. As a backup, you can carry a basic phone that won't run out of battery for at least two-three days.
Get some energy bars, rehydrating salts, and enough water. Carry empty bottles to fill the Zamzam water. Get some healthy snacks. You can also get some bites packed from Shaza Makkah's Shalimar restaurant to please your tastebuds during Hajj.
Carry a small Quran or install some Islamic apps on your phone that can help you recite.
If you are looking for hotel accommodation in Makkah or a hotel in Makkah near Haram, Shaza Makkah is the best place to stay. There are many hotels for Hajj near Haram, but Shaza Makkah offers elegant rooms and suites, exceptional dining experiences, fun-filled recreational facilities, and above all, warm, award-winning hospitality.
Shaza Makkah is a five star property located next to the Holy Masjid that has the spirit of Islam imbibed in its very brick. When you book a hotel in Mecca, you won't find one that matches the quality, service and warmth offered by Shaza Makkah. Our Al-Morafiks will take care of everything you need as you relax in your room, after having a hearty meal at our in-house restaurants, Shalimar and Midan. With all kinds of facilities like private parking, airline assistance, meeting and event rooms, high-speed internet and a lot more – Shaza Makkah is here to please.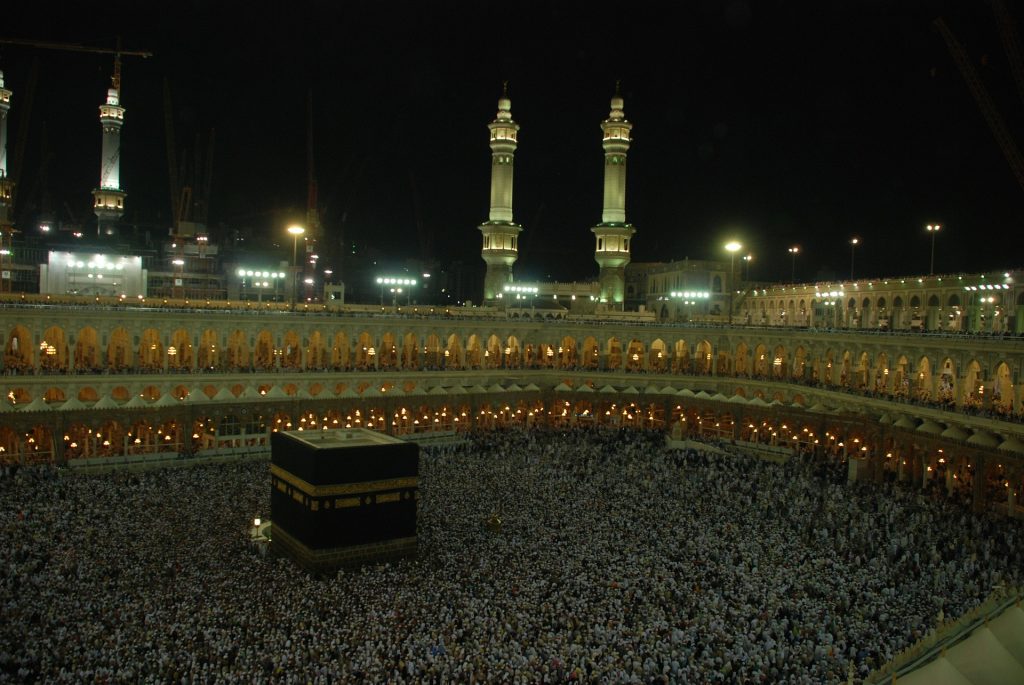 Rites & Rituals
At Shaza Makkah, we want you to fulfill all the rites of Hajj correctly. This guide will help you understand more. We advise that you carry Hajj apps, guides, or books that will help you along the way.
Day One
This is the 8th day of Dhu al-Hijjah.
Ihram
Before Hajj begins and after the pilgrims have reached their miqat (entry point), they enter the state of ihram. The males wear seamless white clothes, and the women wear their usual clothes, without covering their faces and hands. The pilgrims cannot get married, clip their nails, shave their hair, use perfumes, have sexual relations, kill animals, carry weapons, or damage plants in this state. There are six miqats, and if the travellers are flying to Mecca, they have to enter the state of ihram and wear the white garments before entering the airspace of miqat. Ihram brings equality between the rich and the poor.
Mina
After morning prayers, the pilgrims go to Mina. Mina is known for the white tents that are set up for the pilgrims to stay. Once they reach, they spend the whole day praying.
Day Two
This is the 9th day of Dhu al-Hijjah.
Arafat
This day is known as the day of Hajj. Pilgrims travel to Arafat and reach before noon. Arafat is a barren land where they spend time atoning and repenting their sins until sunset. This is known as standing vigil and is one of the most important rites of Hajj. They also listen to sermons given by Islamic scholars from the Jabal-al-Rahmah.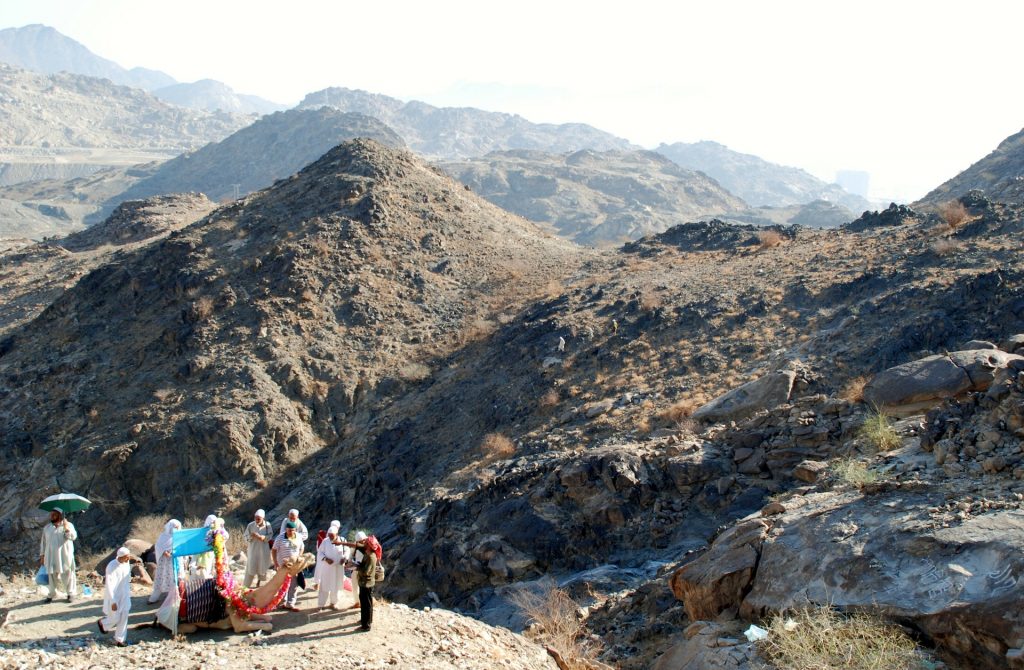 Muzdalifah
Without offering prayers at Arafat, the pilgrims leave for Muzadalifah. Once they reach, they offer the Maghrib and Isha prayers. After that, they spend the night under the starlit sky and collect pebbles for the next day.
Day Three
This is the 10th day of Dhu al-Hijjah.
Ramy al-Jamarat
The pilgrims return to Mina, where they throw seven pebbles at the Jamrat al-Aqabah pillar from sunrise to sunset, by climbing on the Jamarat bridge. This stoning of the pillar, which is the largest of the three, is symbolic of stoning the devil. The pillars have now been replaced by walls for safety reasons.
Sacrifice
After stoning the devil, animals (sheep, goats, camels, etc.) are sacrificed. The pilgrims may not be physically present and may buy sacrifice vouchers. The meat of the animal sacrificed is distributed among the poor.
Shaving
The men shave their heads, and the women cut some locks at the tips on this day of Eid al-Adha. This is also an important ritual for Hajj.
Tawaf al-Ifadah & sa'yee
The pilgrims revisit the mosque at Mecca and circumambulate the Kaaba seven times. Then they perform sa'yee when they walk or run between the hills of Marwa and Safa. This tawaf can also be done the next day. At the end of day three, you can come back to Shaza Makkah to take the rest you need after a tiring but rewarding Hajj pilgrimage. There is a lovely kid's club where you child can play freely and a relaxing foot massage service for adults to soothe your tired feet after your pilgrimage.
Day Four
This is the 11th day of Dua al-Hijjah. On the fourth day, the pilgrims perform the second ramy or the stoning of the devil. They throw pebbles at all three pillars (now walls) to stone the devil. After the rites all that is left to do is come back to your spacious, well-lit and wonderfully decorated room at Shaza to get a good night' sleep. You can enjoy the views of the mosque from your window and wake up the next day, hearing the muezzin's call for prayers, filling your soul with devotion.
Day Five
This is the 12th day of Dua al-Hijjah. For the third time, the pilgrims stone the three pillars. The pilgrims must leave Mina for the mosque before sunset or perform the stoning the next day.  For many the Hajj pilgrimage ends the same day. And completing the pilgrimage in a cause for celebration. You can make use of Shaza Makkah's Amber banquet room to gather your friends and family and celebrate on completing your religious duty. Shaza will take care of all the arrangements, tailored as per your needs.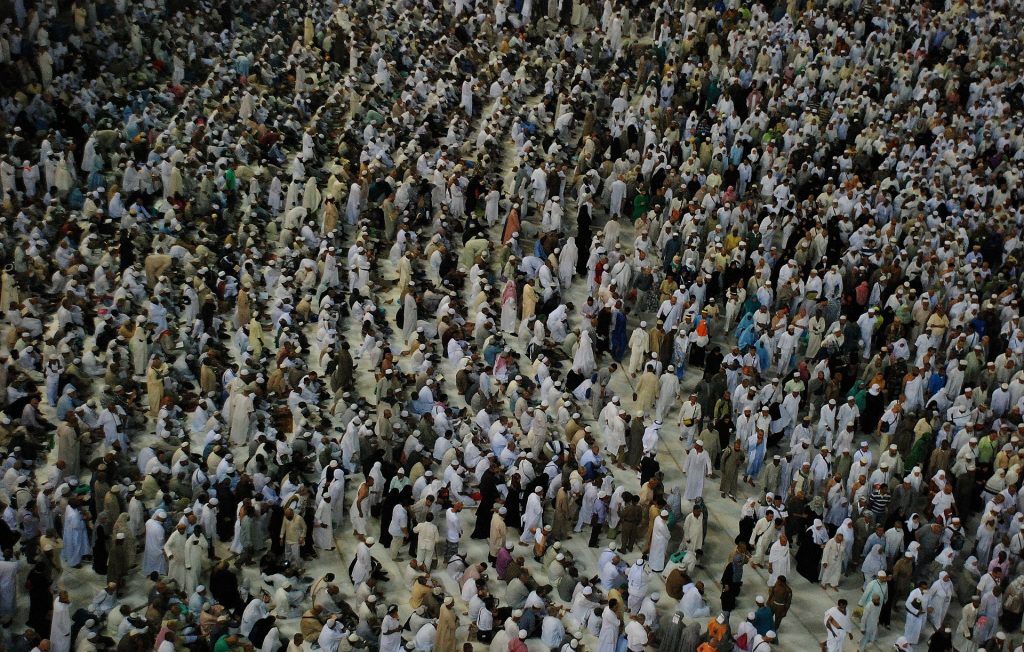 Day Six
This is the 13th day of Dua al-Hijjah.
Tawaf al-Wadaa
Before the pilgrims leave Mecca, they circle the Kaaba seven times counter-clockwise. They either attempt to touch or kiss the holy stone, too, during the ritual.
Some pilgrims chose to extend their Hajj tour by visiting Medina or spending some more time in Mina. Shaza Al Madina in Medina, is a great place to stay offering the same warmth and hospitality like Shaza Makkah.
Quick Tips
Here are some more tips by Shaza Makkah that can help make Hajj smoother and safer for you:
Mecca has seen stampedes, especially during the rite of stoning the devil. Don't panic, and keep your family with you at all times. Try to remain calm and help fellow pilgrims.
Be informed by using the internet before you travel. Billions have been spent at making the facilities better for Hajj pilgrims and increasing security but seek help if you need it. There are programs like e-bracelet, Makkah Route Initiative, or the Fatwa Robot that can help you anytime during Hajj.
Make sure you have the right kind of visa and a passport with at least six months' validity.
There will be a lot of people at Hajj, so be prepared for pedestrian and vehicular traffic. You can make use of the Al Masaaer Al Mugaddassah Metro line if you can manage to get a seat.
Get vaccinated, according to the latest norms of the country.
Have a safe, happy, and redemption-filled Hajj! We are waiting for you at Shaza Makkah.