Kayfa Haluk? Shaza Riyadh welcomes you to Riyadh. Riyadh is absolutely spell-binding with its fascinating desserts and beautiful oases that can woo any traveller. It is one of the three biggest cities of Saudi Arabia and also its financial capital. You'll find its unique cityscape lined with tall skyscrapers and ancient fortresses. Even today, the city has one foot firmly grounded in its roots with another foot in the future. Known for its impeccable and warm hospitality, Riyadh, like its name, is a meadow – a meadow of happiness.
If you are on a Riyadh tour, here are some amazing recommendations for things to do and places to visit in Riyadh. It is a captivating city, and this Riyadh travel guide will help you explore it well.
Stay
Shaza Riyadh offers five-star luxury residences brimming with opulence, comfort, and grandiosity. It is a fusion of tradition and modernity that is perfect for everyone – even those travelling for business. Located close to major attractions, it is a portal, an urban retreat that transports you to the age-old Andalusian charm.
With a wide array of facilities like in-house conference rooms, Moroccan Hamam & Spa, restaurants, kids' clubs, etc. Shaza Riyadh is a stunning place to pick for your stay in Riyadh.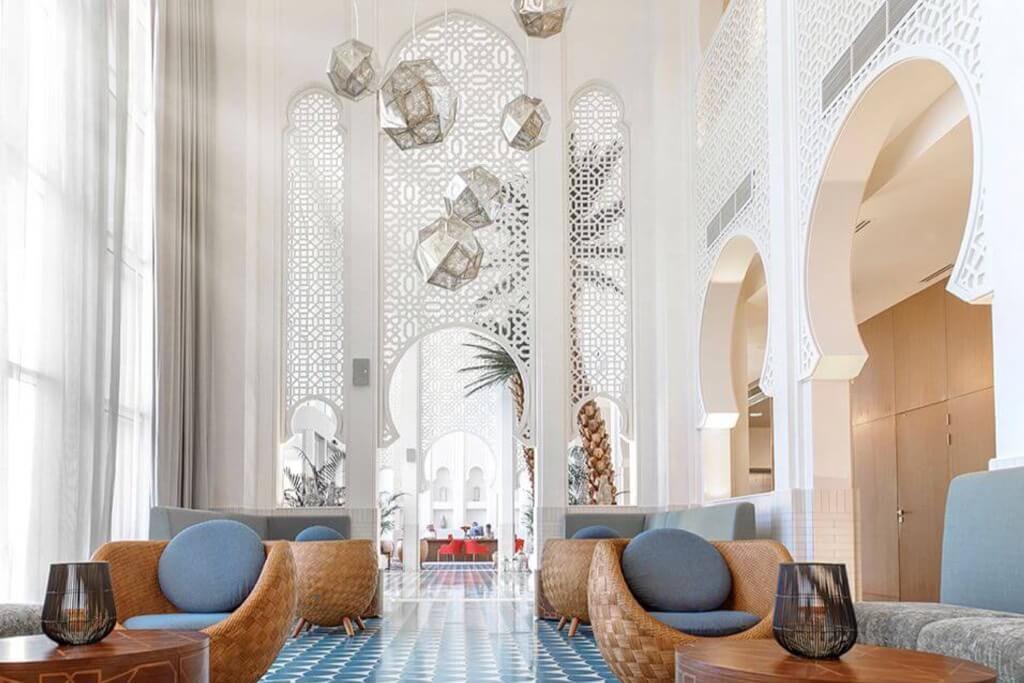 See & Do
Historical Wonders
Five gates: Riyadh's five gates, namely Thumaira, Al-Suwailen, Dukhna, Al-Madhbah and Shumaisi  on its ancient walls are known for its historical and archaeological importance. These were built in 1737 and are spread out in different directions.
The palaces: There are four awe-inspiring ancient palaces in Riyadh that are centuries old. The Masmak Palace (also known as Masmark Fort), the Al-Murabba Palace or King Aziz's Palace, Prince Muhammad bin-Abdul Rahman Palace, and the Shamsiya Palace. Out of the four, the Masmak Fort is the most famous. The locals believe that if the palace falls, the city will fall too. It's a beautiful place to visit.
King Abdul Aziz Historical Center: The historical centre takes you on a journey back into a time to understand the history of the capital. It is built around the Al-Murabba Palace and also houses the National Museum. You can see an ancient car collection, a remodelled mosque based on the royal one, a courtyard house, the old majlis, and the old water tower.
The old towns of Ad' Diriyah, Manfuha and Wadi Laban around the city: See the ruins of the first capital of the Saudi Arabian dynasty that dates back to the 15th century at Diriyah. Manfuha and Wadi Laban are off-beat destinations to take in the traditional feel of Riyadh.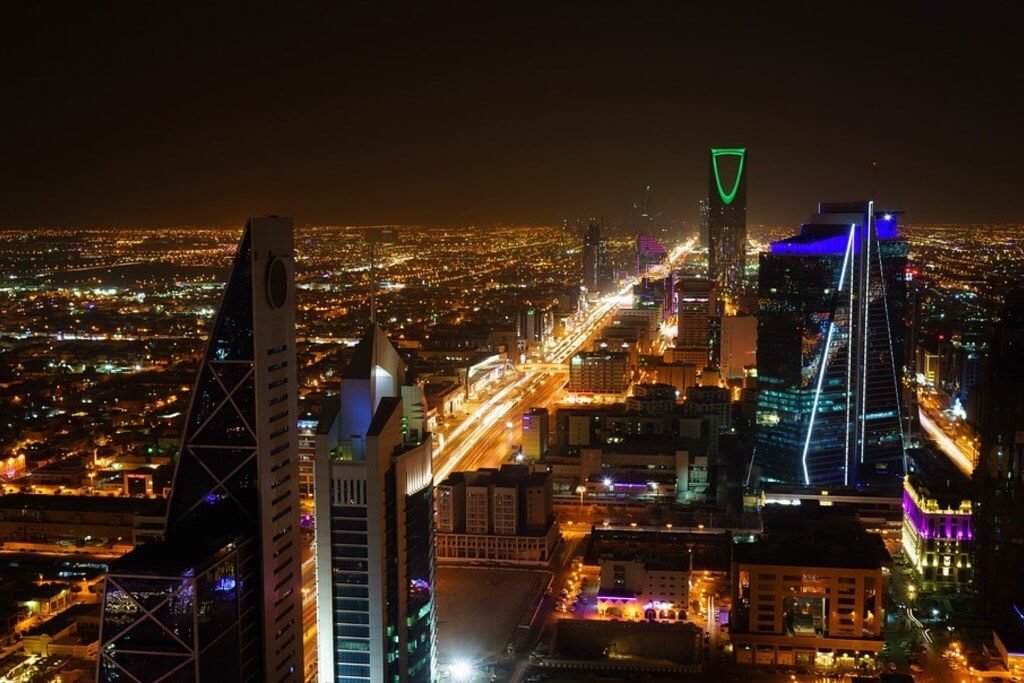 Modern Marvels
The Kingdom Centre Sky Bridge: The super famous, 65-metres long Sky Bridge is one of the favourites among tourists. It connects two famous towers of Riyadh and is located 300 meters above the ground. The view from the bridge is mesmerizing; it will stay with you long after your trip is over.
Burj Al Faisaliah: At 267-metres high, this triangular-shaped tower is a reflection of modernity and a nod to the Arabian style of architecture. It houses restaurants, a luxury mall, and various other amenities, making it the fourth tallest building in Saudi Arabia.
Burj Rafal Hotel Kempinski: The tallest skyscraper in Riyadh has 474 residential units and the uber-luxurious Kempinski hotel with 349 rooms.
Out in the Open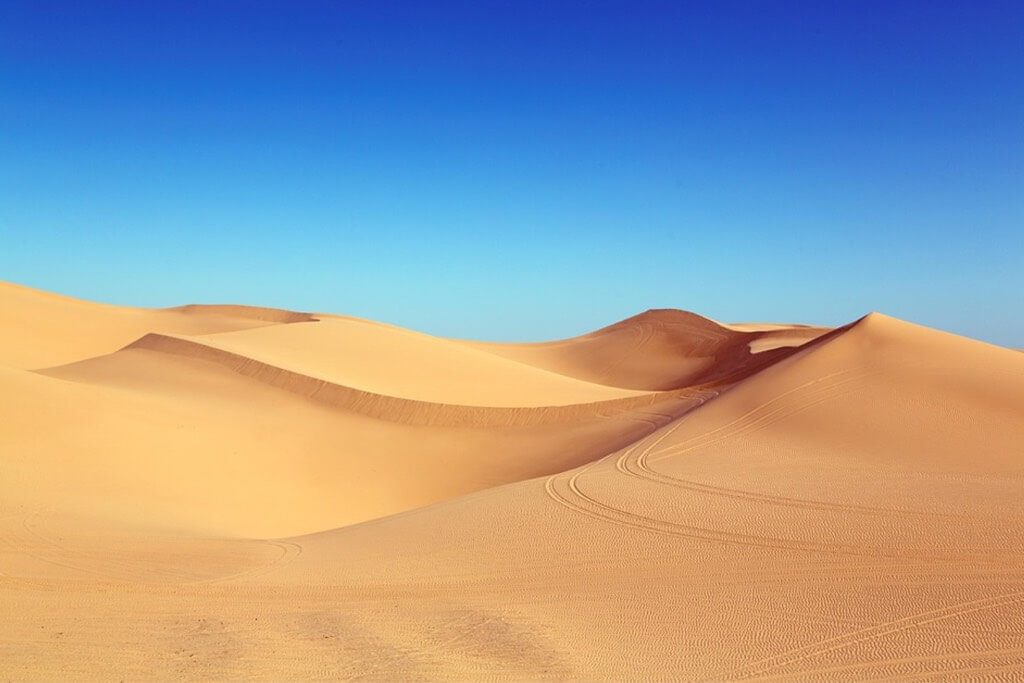 Camel market: Located some 30kms outside Riyadh, if you want an experience that is unique to the country, head to this market. You'll see the nomadic Arabs bargaining and haggling about the prices of camels in their local language. It also makes for a great photography session.
Desert visit: The desert in Riyadh looks straight out of a fairytale in the nights. Unwind with your family and friends gazing at the sunset and then at the stars.
Red Sand Dunes: If you are an adventure enthusiast, go quad biking in the Red Sand Dunes. Don't miss this one! The dunes are truly scenic.
King Abdullah Park: The beautiful garden in Riyadh is well-landscaped and has a large variety of colourful flowers to appreciate. Take a refreshing stroll!
Ain Heet Cave: Located 40 kms away from the city centre, this ancient cave has an underground lake! It is a fun site for diving.
Eat
Shaza Riyadh's in-house restaurants serve lip-smacking food. While MeNa serves distinct Silk Route flair-food, Bistro offers organic, locally-produced food on the go.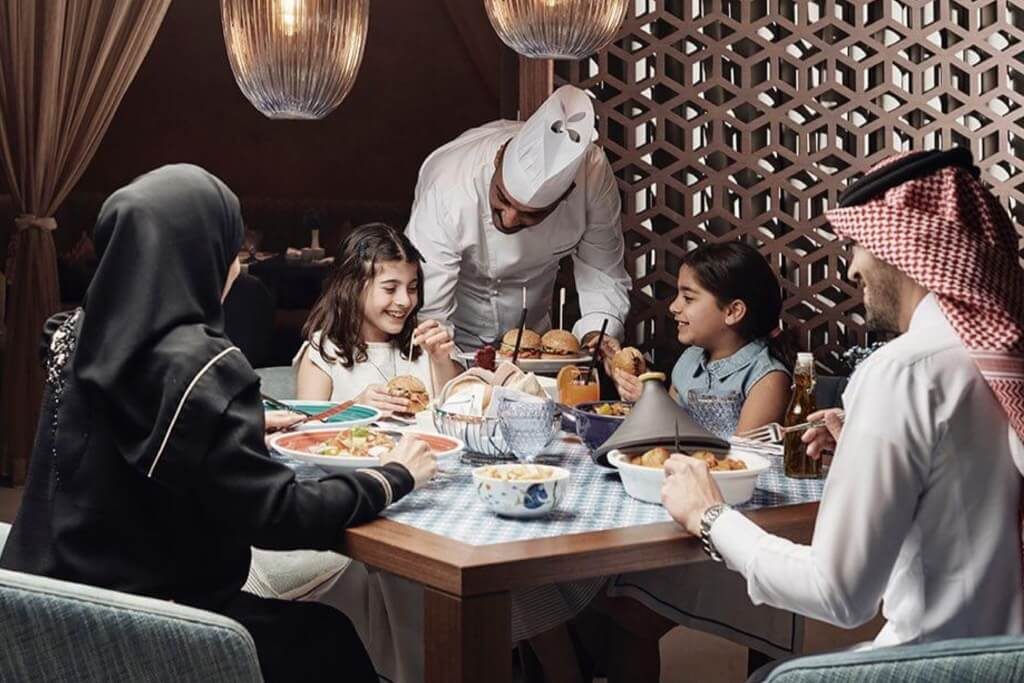 If you are want to explore more restaurants in the city, here are some recommendations for eating in Riyadh:
Al Nakheel (Arabian).
Najd Village (Traditional Arabian).
Al Tazaj (Arabian – famous for BBQ chicken).
The Globe (International).
Lusin (Armenian).
Nozomi (Asian).
Maestro Pizza.
Tokyo Restaurant (Japanese).
Mirage (Chinese).
Lahori Khabay (Pakistani).
Munch Bakery (Desserts).
Saadeddin Pastry (Sweets).
There are a lot of cafes to visit, too, like Dr. Cafe, Cafe Vienna, and more.
Shop
Riyadh has some of the most amazing markets or souqs for spending your day shopping. It also has luxurious malls to shop at.
Souqs
Souq Al Jamal: Get everything you can imagine at great prices at this market – even camels! Famous for being one of the largest souks in Saudi Arabia, it is an experience in itself.
Owais Souq: Perfect destination for jewellery shopping, the market sells amazing gold and diamond jewellery. It also sells great carpets and shisha pipes.
Malls & Plazas
Kingdom Centre Mall: Located on Olaya Street, you'll find many high-end international brands stores here and a lot of activities to do. The gadget stores in the mall are also plenty.
Granada Centre: Cafes, boutiques, and a massive food court – what else do you need?
Panorama Mall: Loaded with fashion stores and cafes, this mall is the perfect shopping and food therapy that you need.
Sahara Plaza: You'll find modern brands and traditional boutiques at this plaza. It has it all and is apt for a shopping spree.
Getting Around 
The Saudi Arabian Public Transport System(SAPTCO) runs buses that are a cheap mode of transport. There are other buses too that make it easy to get around. However, a majority of these buses are reserved for men. The bus services for women are infrequent.
Hiring a cab for your entire visit is the best way to get around. Shaza Riyadh can arrange an authorized cab for you.
If you are planning to hire a car and drive it yourself, make sure you are aware of the traffic rules and have an international driving permit.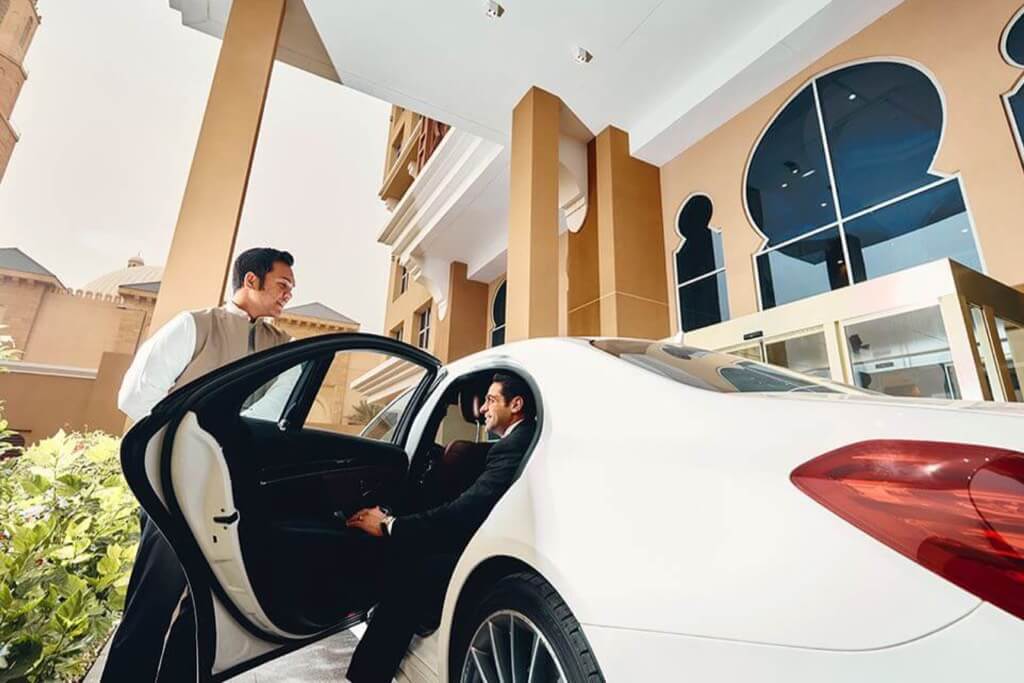 Know
Avoid visiting Riyadh during the summers (from April-October). November to March is the best time to visit.
The norms in Saudi Arabia require women to be covered from neck to the feet, and in many places, the face and the head should also be covered. For men, shorts are not allowed.
Always have a passport valid for at least six months and a visa on your person when you are travelling around Riyadh.
The King Khalid International Airport is located about a 30-minute drive from the Riyadh city centre. You can hail a cab 24 hours a day, or you can contact us at Shaza Riyadh for airport transfers.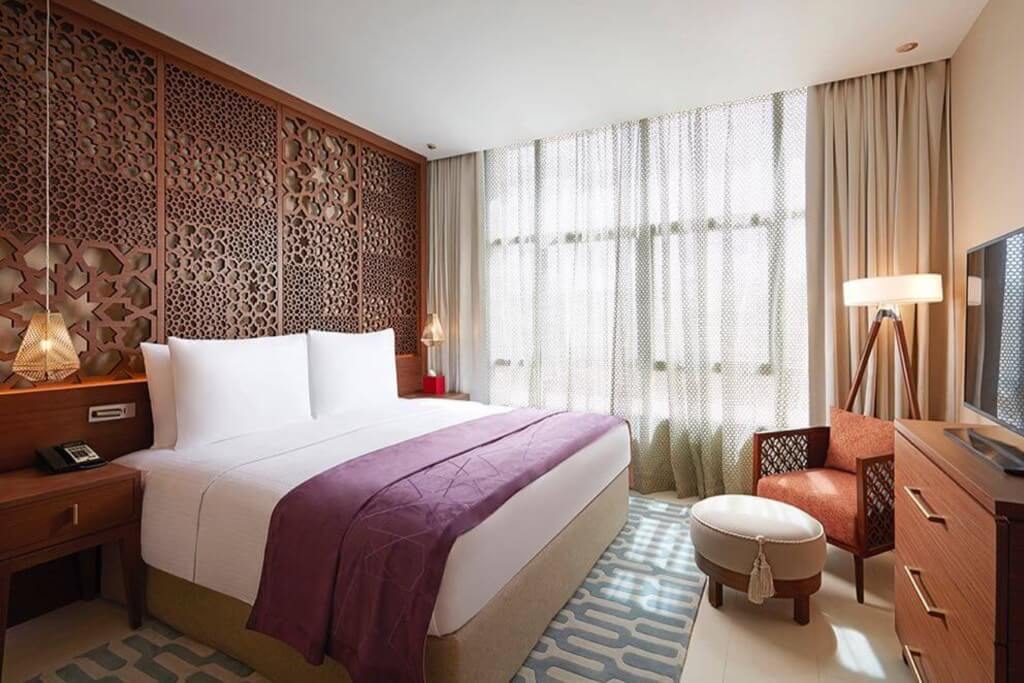 Contact us at Shaza Riyadh for anything you need! We are always here to make your trip to Riyadh full of unforgettable memories. Ilal liqaa, wadaa'an!